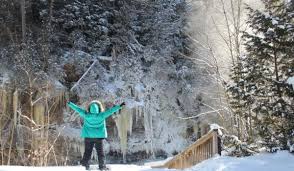 Mark your calendars, Saturday, February 6th & Sunday, February 7th has to be to dates where you plan to come to the great Haliburton Highlands.
Hike Haliburton Festival is pleased to present the Winter Edition! In this second year we are offering over 20 guided & themed snowshoe hikes, demonstration and events for all ages, interests and abilities.
The Festival is more than just traditional snowshoeing/hiking; heavily integrating the arts, culture, heritage and foodie experiences to truly showcase the area. We are in the process of finalizing the plans for lots of great events happening throughout the Festival as well, which anyone can attend!  More details to come …
Bring your friends and family for 2 days of adventure and fun.