INFORMATION/DEMONSTRATIONS
The Haliburton Highlands and area is blessed with extraordinary craftsmen and women who are full of personality and knowledge. Over the course of the Festival weekend we invite you to drop in before, after or instead of a snowshoe walk to see one or more of these remarkable folks. They are keen to share their experiences with you through story and demonstrations.
Snowshoe Show and Tell – Craig MacDonald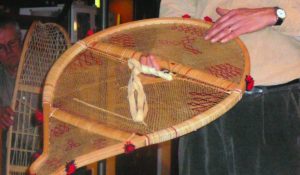 Winter travel expert, Craig Macdonald invites you to drop by his home to take in his personal collection of heritage snowshoes – over 50 pairs! If you have babiche snowshoes bring them along to get some advice from Craig regarding care and repair. Also, you will have a chance to see and learn about wilderness travel sleds and related winter camping gear including many tents and trail stoves.
Date: Saturday, February 8
Time:   Open house 1:00 to 4:00 PM; presentation 1:30 – 3:00 PM.
Location:  1001 Sale Rd. Dwight. 17 km north of Dorset
Alpine and Back Country Touring – Randy Pielsticker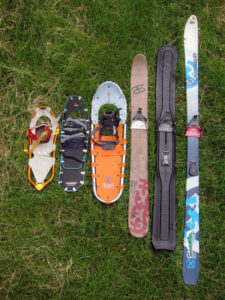 This information session looks at other methods of winter travel. The focus will be on back country travel and the use of skins. Randy Pielsticker of Sir Sam's Ski/Ride will feature and demonstrate the associated gear.  Have you heard about Altai-Hoks?  No charge. Donations welcome
Date: Saturday, February 8
Time:   4:00 – 5:30 pm
Location:  Sir Sam's Ski/Ride 1054 Liswood Rd, Eagle Lake
OTHER EVENTS DURING THE FESTIVAL
Haliburton Highlands Traverse – Winter Camping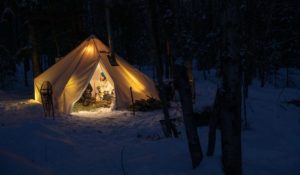 Looking to upgrade your winter camping skills? Join the Land team to learn the fundamental principles of winter camping on this introductory backcountry snowshoe trek in the majestic Haliburton Highlands! This three day two night trek will traverse nine lakes in the Poker Lakes Loop between Carnarvon and Bracebridge, Ontario. We'll upgrade your skills with fire and food preparation training, hot tents and sleeping systems tips, transport and much more. To registar click here
Date: Friday, February 7, 12 pm  to Sunday Febraury 9, 12 pm
"Water" Rails End Gallery Annual Salon Exhibition
Opening reception 3 til 5 pm – Vote for your favourite from over 50 original works by Haliburton County Artists.
Date: Saturday, February 8
Start time:  3:00 pm
Duration:   2 hours
Location:   Rails End Gallery
Tickets:   By donation
Ham & Scalloped Potato Dinner & Silent Auction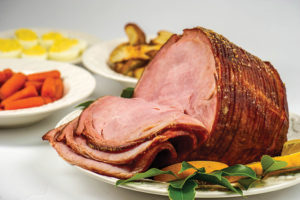 Join us for an evening of great food, silent auction, fun – A Fundraiser for the Haliburton County Fair
Date: Saturday, February 8
Start time:  5:30 pm Social – 6:30 pm Dinner
Location:   Minden Community Centre
Tickets:    Tickets  Adults $15 – 12 and under $8 – 6 and under FREE
For reservations call Wendy at 705-286-1225
February Full Moon Shenanigans
Join us at Haliburton Highlands Brewing for an evening of fun, food and live music – Bonfires & outdoor games – and snowshoeing!
Into the Blue wood-fired pizza
Date: Saturday, February 8
Start time:  6:00 pm
Duration:    4 hours
Location:   Haliburton Highlands Brewing
Tickets:    no cover charge
Lemon Bucket Orkestra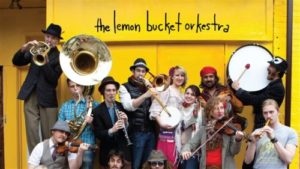 Lemon Bucket Orkestra is a guerilla-punk-balkan-folk-brass band massive like no other. Tracing their genesis back to the streets of Toronto, the original quartet of busking troubadours quickly amassed a battalion of like-minded musical souls and the full-blown, dozen plus strong Orkestra was born. The multi award winning ensemble has been heralded as a groundbreaking, genre-bending phenomenon by the Canadian and international media alike and over the past 8 years they have performed on streets and stages around the world, leaving a trail of new friends and dedicated fans.
Date: Saturday February 8
Duration: 6-7 dance workshop (free but must preregister); 8 pm-11 concert/dance party
Location:  Haliburton Legion 719 Mountain St., Haliburton ON
Ticket: On-line, in store $30 or at door $35 https://m.bpt.me/event/4450056
Jeff Moulton Live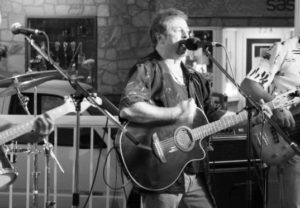 Jeff is a familiar face in the Haliburton. He is a versatile talented performer who loves classic rock.  You won't be disappointed. Be sure to catch dinner at the Dominion.
Date: Saturday, February 8
Start time:  7:30
Duration:    3 hours
Location:   Dominion Hotel
Tickets:    no cover charge
Open Stage – Feat. Nick Russell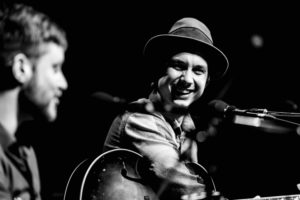 The Haliburton County Folk Society invites you to come to play or listen. This is a great opportunity to enjoy the talents of local and guest performers. Nick Russell will be the host and featured performer.
Date: Saturday, February 8
Start time:  8:00 pm
Duration:   2 hours
Location:   Haliburton Highlands Museum, 66 Museum Rd
Admission by donation