It is easy to learn (If you can walk, you can snowshoe!), it is fun and suitable for all ages and fitness levels.
Benefits of snowshoeing – What we love about snowshoeing is that:
It gives you a great workout
It's a low impact aerobic exercise that burns more calories than walking at the same pace
It will strengthen your heart and give you stamina
You will feel it in your legs but also in your hip flexors and calves
You can use a proper Urban Poling/Nordic Walking technique to improve your cardiac work out, strengthen your core muscles, improve your balance and stability, and take the pressure of your knees, ankles and hips.
It gets you outside, and it gives you a chance to enjoy the beautiful scenery and the peacefulness of the forest. You can go where nobody has been before.
You can go with a buddy, or a dog, or make it into a social outing to connect with family and friends
And above all, it allows you to enjoy our Canadian winters!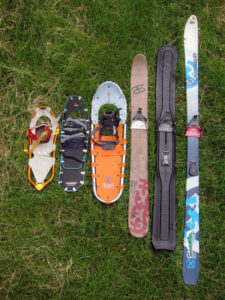 Snowshoeing equipment
When buying snowshoes, there are 3 types:
aerobic/running/racing: these are small and light
recreational: a bit larger, meant for gentle to moderate walks of 4 to 10 km (this will be the type most of us are interested in)
mountaineering: largest and intended for serious hill climbing, long distance trips and off-trail us
Buy the snowshoes that are appropriate for your size/weight/gender, as well as the gear you intend to carry with you. Women have a different gait from men, and most snowshoe manufacturers now have women specific snowshoes. Consult with the sales staff to find the proper snowshoe.
Most metal snowshoes are marked L(eft) or R(ight), but if not, remember that the loose ends of the straps are typically placed on the outside of the snowshoe to avoid stepping on them while snowshoeing.
How to dress for snowshoeing?
For greatest comfort outdoors in the winter, remember to dress in layers!
1st layer: tighter fitting synthetic material to wick away perspiration and keep you dryer/warmer. This layer could be non-cotton long underwear as a foundation
2nd layer: this insulating middle layer of thermal or warmer material could be wool or fleece to provide good insulation
3rd layer: warm outer layer, a jacket or shell, preferably wind proof/water repellent to block snow or wind. Zippers in the underarm area of the outer layer help to release heat build-up during your workout.
Also, remember that you can shed layers as you get warm, and put them back on as you cool down.
Footwear: warm socks (wool or polypropylene), waterproof hiking boots or winter boots. Consider wearing a pair of gaiters as they keep the snow from falling into your boots.
Hat and mittens/gloves: these are very important for any winter weather. Remember that you lose 50% of your body heat from your head. Mittens with "hot shots" hand warmers can really keep your hands cozy in colder air. You will find mittens to be warmer than gloves.  Avoid wearing any type of cotton clothing in winter!!
What to bring on a snowshoe outing?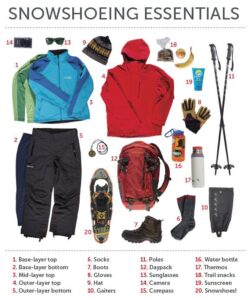 Besides the obvious, your snowshoes (with or without poles), bring a day pack or back pack, so that you can store away excess clothing, a snack or lunch, and some water. In case of emergency, you will be glad if you also packed:
Flashlight
Whistle
Candles and matches
Swiss army knife
Map, compass and/or GPS/Cell or satellite phone
Ground sheet, preferably orange so it can be seen
Blanket
Flares
Extra clothing
Balaclava or mask for extreme weather conditions
To avoid the top of your water bottle from freezing, carry it upside down.
Snowshoe Safety
Snowshoeing is an extremely safe sport. It is also one of the only winter-specific sports that do not depend upon sliding or speed. The manageable and maneuverable nature of modern aluminum-framed snowshoes and the soft forgiving nature of snow combine to make the risk of injury while snowshoeing very low. Snowshoeing involves a natural motion similar to walking, to which the body is accustomed, and is very low impact due to the cushioning of snow. Any wintertime outdoor activity has its risks and snowshoeing is no exception. Take care to avoid the following hazards:
Thin ice: Do not walk over frozen water unless you are sure of its safety. Even after a long freeze, a body of water may have thin spots, especially along the shoreline, so be careful!
Hidden obstacles: Beware of barbed wire fences, branches, holes, or uneven terrain under the snow. Tread lightly!
Getting lost: You can usually follow your tracks out but beware of storms and wind that can cover them up. Always let someone know where you are going & when you expect to return.
Wildlife: Please keep your distance and respect their environment. The critters out there in winter have a rough time as it is!
Frost bite: Protect all exposed appendages, especially as the temperature drops or the wind increases. Insulated gloves or mittens and thick hiking socks will keep those digits toasty, and a mask or balaclava can keep your nose from growing icicles.
Hypothermia: Staying warm means keeping your body dry inside of your clothes and out. Dress properly for your time outside. Wearing a damp, sweaty, cotton t-shirt outside in the winter time can be just as chilly as falling in open water. Know your limits, stay hydrated, and bring extra layers on long outings in isolated areas.
To summarize, before you head out, make sure to check the weather forecast, know your own limitations and those of your companions, make sure your equipment is in good repair, go out with a buddy, and leave word with someone as to your plans and when you expect to return.
Other benefits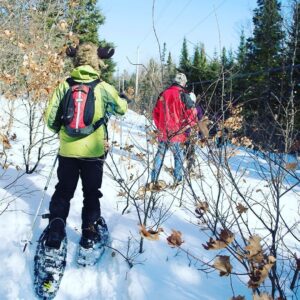 Where to snowshoe?
There are lots of formal and trails in the Haliburton Highlands, which are suitable for snowshoeing. But you do not necessarily need a track set trail, you can go anywhere your snowshoes will take you (provided you are permitted on that land, stay off private land, unless you have specific permission from the landowner).
Click Here to view listing of Snowshoeing Trails in the Haliburton Highlands.
Trail etiquette also suggests that you as a snowshoer should stay off groomed ski trails. If you are snowshoeing on a multi-use trail, where snowmobiles are allowed as well, listen for the noise of oncoming snowmobiles, or look out for their headlights.
At night, unless there is a bright moon, remember to wear a headlight or miners' light, preferable also with a red light facing backwards. But on a bright moonlit night, enjoy the brightness and sparkles in the snow with your bare eyes. You'll be amazed how clear you can see. It's actually magic, a snowshoe hike by moonlight!
By Frieda Baldwin, Retired Snowshoe Instructor
Sources
Some of the above has been reprinted from www.redfeather.com, www.nordicwalkfit.com, and from www.en.wikipedia.org/wiki/snowshoe